Slugger Cup
Slugger Cup V Palmerston @ Rugby Park 71 Abala Rd, Marrara NT 0812
Swampdogs 10s
Swapdogs Pre Season 10s competition at Freds Pass Reserve
Pre Season
Come join the Mighty Rabbithos for the 2019 season.
Adult Pre Season training begins, new players welcome. training is at St John's Catholic College, 10-54 Salonika Street, The Gardens NT 0820 6:00pm every Tuesday and Tuesday.
Men and Women – all welcome!

Home Game @ Warren Park.
First home game back at Warren Park v Uni Pirates
Junior Rugby 2018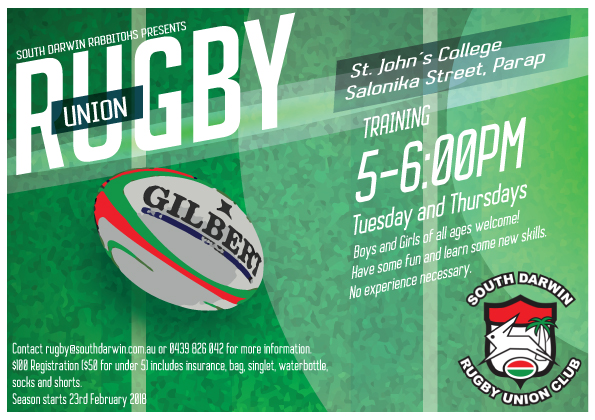 [Get the Flyer] [Find out More]
Shop Open
Afraid of looking frumpy on he touchline? Not to fret.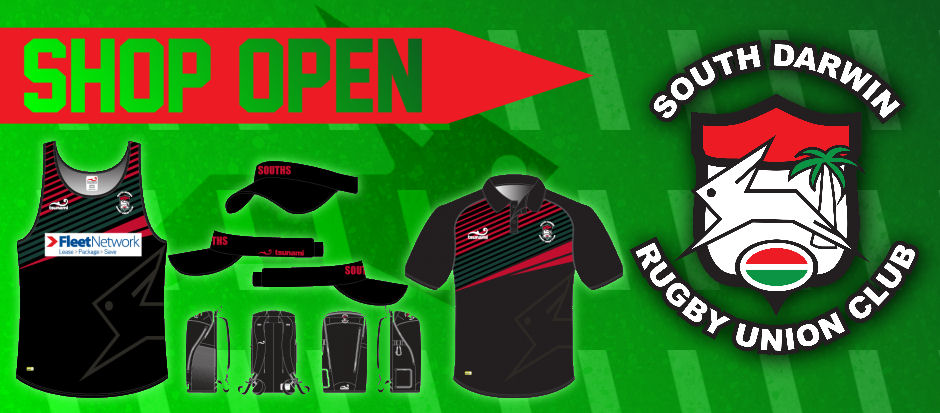 Order:
Singlets
Visors
Backpacks
Polos
Online orders will be open until Feb 13. Click Here
Orders will then be placed and made for delivery in early April.
All orders will be for pickup from JJs Car Hire depot – 7-9 Goyder Road Parap NT 0820 – during business hours – Monday to Friday – 8am to 5pm or contact the club for alternative arrangements More info: rugby@southdarwin.com.au
Season Opener – Slugger Cup


Opening Round of the 2018 Rugby Championship
Against Palmerston Crocs – the Slugger Cup.
Played at Moulden Oval Palmerston's Ground.
B-Grade 4:30pm
A-Grade 6:00pm
Junior Sign on Day 2018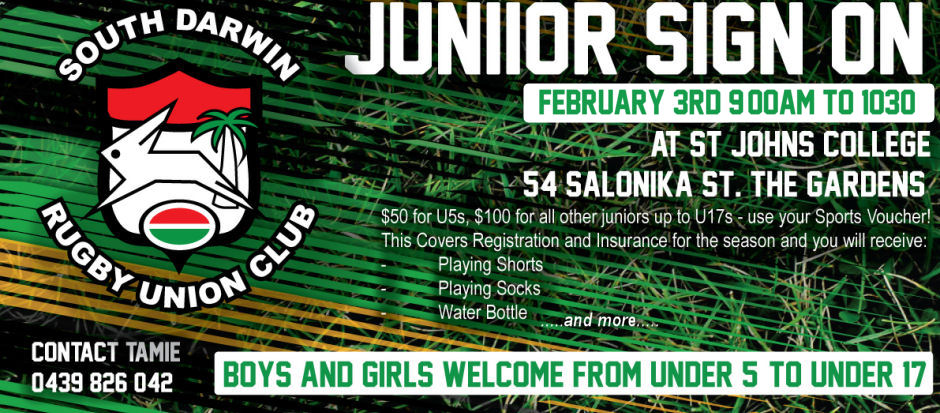 Have some fun and learn some new skills.
[Get the flyer]
No experience necessary.
More information:
Email rugby@southdarwin.com.au
Phone 0439826042
New Training Location – St Johns College
Due to the Re Development of Warren park  in the New Year training will be at St John's College Oval, odd the Stuart Highway in Gardens. The Juniors have trained there for a couple of years now.

FAQ:
Southern Oval see see pin in map right.
How do a get there – through the main entrance turn left.
What time is training – 6:15pm Sharp for Men's a and b grade and Women.
 Is there parking – yes.
Women's Rugby Union
Are you interested in playing Women's Rugby? Come down to Land Rover Rugby Park on Monday and Wednesday nights from 6pm for Women's and Youth Girls training sessions.
If you are interested in representing NT at the National Sevens Championship come down to the training sessions for team selection.
National Seniors Sevens Championships: 24-26 November 2017, Bendigo VIC 
National Youth Sevens Championships: 8-10 December 2017, Brisbane QLD
For more information please contact NTRU 08 8945 1444 or info@ntrugby.com.au